Answers
Jan 23, 2023 - 08:59 AM
I'm not familiar with that thread, but we do have a wonderful red/yellow/green in our 30 wt. Cotton Blendables line: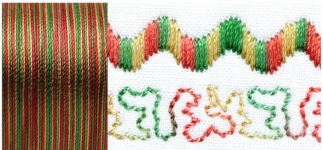 Here's a direct link:
https://sulky.com/sulky-30-wt-cotton-...
It also comes in 2,100 yd. Jumbo Cones:
https://sulky.com/sulky-12-wt-cotton-...
This is a 30 wt. thread, which is 1/3 heavier than typical embroidery thread, so you would need to use a 90/14 Topstitch needle, and if you're using it for computerized embroidery, you may need to enlarge your design some on your machine (not in software). If you have further questions, you can also contact me at info@sulky.com.